Does your congregation, cluster or group want to help with the recovery efforts from Superstorm Sandy? This is the place!
As Susan Karlson's grant position comes to an end on June 1st, she won't be facilitating Superstorm Sandy Recovery journeys anymore. She has compiled a list of work sites and host sites that you can contact directly that have been vetted. These folks are great to work with and can help you to plan a volunteer trip to the Metro New York area, doing the work that still needs to be done going on three years since Hurricane Sandy struck on October 29th, 2012.
Long Island and Queens Work and Host Sites
The NY Annual Conference of the United Methodist is still doing great volunteer and recovery work in Long Island, Brooklyn, Staten Island, Queens and Connecticut. Even though it is over two and a half years after the hurricane, the work continues for those homes who were damaged.​ On Long Island, the work extends from the Queens border east to the Shinnecock Nation in Southhampton. Housing is available for those coming a distance. Please contact Site Coordinator, Peggy Racine at This email address is being protected from spambots. You need JavaScript enabled to view it. by phone (516) 799-5729 for more information or schedule a Superstorm Sandy Recovery Volunteer trip. A covenant that is inclusive of Unitarian Universalists is available. A great organization to work with!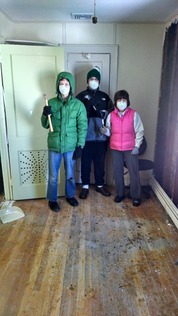 First Parish Framingham volunteers ready to work with NYAC in Long Island
St. Andrews Community Center at Mastic Beach Work Site
Wendy Samuels has been working on Superstorm Recovery since the storm landed on October 12, 2015. She is the Volunteer Coordinator and the work site supervisor for many of our congregations that have volunteered in Mastic or at the Poospatuck Reservation. Contact Wendy at This email address is being protected from spambots. You need JavaScript enabled to view it. to coordinate volunteering at the Poospatuck Reservation. Youth are welcome on these trips.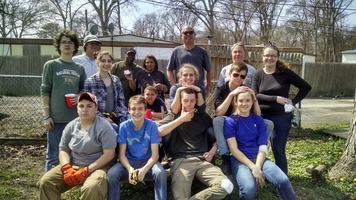 UU Congregation Worcester youth group with Wendy and Jerome Samuels in the middle of the back row at Poospatuck Reservation in Mastic, Long Island
Long Island Host Site
For volunteers going to Mastic or the Eastern most end of Long Island, the Mt. Sinai United Church of Christ has an excellent sheltering ministry on their campus. They have dedicated a large two story house with bunk beds and spacious accommodations.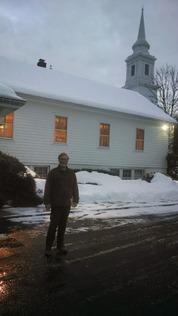 Mt. Sinai UCC on a beautiful snowy evening. The sheltering ministry is right next to the church
They love to welcome volunteers to their Sunday service and provide a potluck meal during your stay. Contact the Rev. Dr. Diane Samuels, senior minister or Mary Larson, lay minister about accommodations at Mt. Sinai if you are planning a volunteer trip to the area: This email address is being protected from spambots. You need JavaScript enabled to view it. or This email address is being protected from spambots. You need JavaScript enabled to view it..">This email address is being protected from spambots. You need JavaScript enabled to view it.. Call them at (631) 473-1582 for more information.
Brooklyn Work and Host Site
CERG UU has had a partnership with the Rev. Brian Steadman and Resurrection Brooklyn for some time now. The UU College of Social Justice also has a partnership with Resurrection Brooklyn and is planning Climate Justice related experiential learning service trips in collaboration with them throughout the summer. Ressurrection Brooklyn has some housing available at their headquarters. Please get in touch with the Rev. Brian Steadman at This email address is being protected from spambots. You need JavaScript enabled to view it. .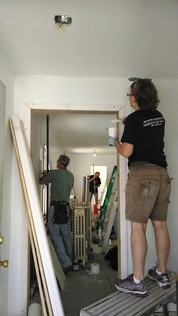 UU Congregation of the Hudson Valley on one of their three trips to work with Resurrection Brooklyn
Staten Island Host Site
CERG UU has had a partnership with the Unitarian Church of Staten Island as well. Their parsonage house is available as a host site.
Contact Jill Huecel at 718-448-1431 or This email address is being protected from spambots. You need JavaScript enabled to view it.
Staten Island parsonage was repaired with a grant from the CERG Disaster Relief Fund
New Jersey Work and Host Sites
The United Methodist recovery program in New Jersey is A Future with Hope. They coordinate groups and work with volunteers 14+ on rebuilding homes affected by Superstorm Sandy in NJ. They also have some housing available for volunteers. Your group can stay at Murray Grove if the work site is in that part of New Jersey.
Lisa Park or Denise Tiedemann This email address is being protected from spambots. You need JavaScript enabled to view it. or This email address is being protected from spambots. You need JavaScript enabled to view it. or call them at (732) 359-1086. Their website is www.afuturewithhope.org.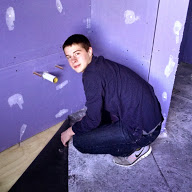 UU Congregation of Somerset Hills Volunteer Removing floor membrane working with A Future With Hope on home in NJ and staying at Murray Grove
New Jersey Host Site
Parker House as it has been renovated as a host site for Superstorm Sandy volunteers
Murray Grove received funding from the Ocean County Long Term Recovery Group and CERG Disaster Relief Fund to renovate one of their old cabins, Parker House. Parker House now is ready for volunteers. Murray Grove has been a wonderful partner throughout the two years of Sandy Recovery. Contact Murray Grove at This email address is being protected from spambots. You need JavaScript enabled to view it. or call (609)693-5558. Their website is www.murraygrove.org
New Jersey Work Site
Visitation Relief Center, Brick, NJ
The first partnership we made with Sandy Recovery in NJ was with Visitation Relief Center (seen below when the Paramus Coming of Age group worked there). Contact Trish Wall 25 Mantoloking Rd, Brick, NJ 08723, Phone:(732) 746-3456, This email address is being protected from spambots. You need JavaScript enabled to view it..">This email address is being protected from spambots. You need JavaScript enabled to view it..